Dave Wild (aka David Wild, aka David A. Wild), born in New York City shortly after its purchase by the Dutch, has wandered about a lot, with stops in Honolulu, California, Michigan, Los Angeles and San Juan PR among other places. (We're currently perched on the side of a rare hill in otherwise-flat Central Texas). Against all odds a Dave Wild Trio has managed to assemble and perform at each stop.
During the wanderings there were also some publications of interest (discographies, transcriptions, jazz journalism of various sorts). I acquired academic credentials during a few of the stops (BA in English from the University of Hawai'i at Manoa and an MA in English from Eastern Michigan University in Ypsilanti MI). For many years there was a day job, toiling in a sunless over-air-conditioned office deep within the Federal bureaucracy, knee-deep in paperclips, pried-open staples and crumpled post-its (the invisible means of support for all of this). That association ended in early 2009, leaving behind a trickle of funding and the time to chase more paper (a masters in jazz studies--arranging/composing at the University of North Texas, completed in 2012). Currently an adjunct position teaching English at McLennan Community College keeps the red pen busy.
Before we move out to the virtual garage to poke in those boxes marked JAZZ, are there any questions? A short bio of Dave? Try here. Dave's promo stuff (samples, photos)? Over here. The John Coltrane Reference--try the annex. (You can also check out the navigation bar on your left, or more links here).
Dave Writes.....
During our 15 years in Ann Arbor, that remarkable town west of Detroit, some equally remarkable things happened. Casual research became not-so-casual, and eventually two standard discographies were born: The Recordings of John Coltrane: A Discography - 1979, and Ornette Coleman: A Discography - 1980, with Michael Cuscuna, both essentially out-of-print. In the early seventies I began writing for Coda (out of Toronto) and a little later for downbeat (I was Detroit correspondent for that long-lived publication, from 1979-1987).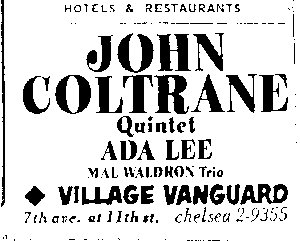 The Coltrane research led to liner note assignments for something like 20 John Coltrane recordings on Impulse, in its various guises (ABC-Impulse, MCA Impulse, GRP Impulse and now Verve Impulse/Universal Music) . The 1997 assignment to do the notes for the definitive collection of Coltrane's 1961 Village Vanguard recordings (described on my Village Vanguard page) was especially rewarding, and the hits keep coming--2013's Sun Ship: The Complete Sessions is the most recent hot topic.

I can also claim two dozen or so articles in the Grove Dictionary of Jazz and an article on Coltrane's music (1961-1967) in Carl Woideck's anthology The John Coltrane Companion (published in 1998 by Schirmer), among other things. Early in the last decade a group of us came together to work on a successor to Yasuhiro Fujioka's John Coltrane discography (his discography replaced mine as the "standard" in 1995), expanded to include a complete chronology. The team--including Fuji himself, Lewis Porter, Wolf Schmaler, Chris DeVito and me—collaborated remotely for years, and Routledge published the results—the massive and award-winning John Coltrane Reference —in December 2007, with a paperback/eBook reissue in 2013..
Incidentally, I don't know enough about popular TV shows like Friends to name the characters, let alone write about them. Those books were authored by what puertoriqueños call un tocayo, same name different face--another Wild David, formerly an editor at Rolling Stone and most recently host of the series Musicians on the Bravo cable network. I also am not to be trusted with blueprints; for that category of expertise you should seek out the English architect David Wild (who recently published a book of jazz photos, Jazzpaths: an American photomemento, taken during two years in the US 1964-1966). If you feel like you've stumbled into some alternate reality (where Buddy Bolden talks to Ken Burns about Wynton Marsalis), perhaps it's one of the other Wilds you want. In the interest of accepting my fair share of blame, I've listed most of what I've written over the years on a separate page: Dave Wild in Print, with a couple of samples.